Kolodozero
In the late 1990-s a group of young people traveled through the Russian North in search of strange and wild places. They got as far as to Zaonezhye, discovered for themselves Kolodozero and fell in love with this place. They started coming there every summer. Their minds were filled with discontent with their lives and they dreamt of something better. So they decided to start a new life in the place they liked so much. This is how community of Kolodozero got started.
At its heart there is an aspiration for unalienated existence, when people do what their hearts feel for and not what they have to, in other words, when their earthly and spiritual ways agree. It means that one should give up all extras and focus on the most important things. In this case megapolis turned out to be an unnecessary extra while church and nature became the most important things.
Simple life in accordance with the nature is an important element of Kolodozero way of life and orthodox faith is, perhaps, the central element of it. Members of the community came to church consciously, when they were quite mature. Extremism of neophytes is uncharacteristic of them. They listen to rock music and watch Bergman's films on DVD. The living spirit of grace spreads above them and not the dead letter of the law.
It is the fourth year since they started construction of the temple – at their own and by their own forces. The church of Kolodozero is not only an architectural construction and a place to pray but also a symbol of life the way it should be – bright, strong and inspired. Not an earthly life but the one fixed on heaven, not divided but united one.
At the same time the community is growing, too. As if answering an invisible call,dozens of people come to Kolodozero from Moscow, Saint Petersburg and other cities.
Some of them decided to move to Kolodozero for good so they prepare the economic basis of life in a new place: they work on projects and develop business plans.
They do not just think of themselves, they also work on creating work places for local people. It is a difficult task in view of total unemployment and desperate drunkenness,especially since remoteness from trade routes and markets makes production for the outer world unprofitable, and local market orientation is also questionable since economic decline of the region is accompanied by extremely low customer demand.
Economic decline and social desolation, however, have another side, too. There is almost nothing to get out of this place so there is no much sense in exercising authority here.
That is why, according to deacon Nikolai (a pilgrim looking for a quiet place to build a skete and devote himself to prayers), "people live here more freely". Wildness, freedom and opportunity to start something from a scratch – this is what such places have to offer to
people fleeing from cities.
Will inhabitants of Kolodozero manage to put into life their vision of unity of Heaven and Earth? Will they be able to bring the dying village out of coma by leading people by example and showing them possibility of sensible life? Will their experiment become a sprout
of the new community driven by freedom and fullness instead of compulsion and lack of something? Time will show.
At least, they are doing their best.
Yevgeniy Gorny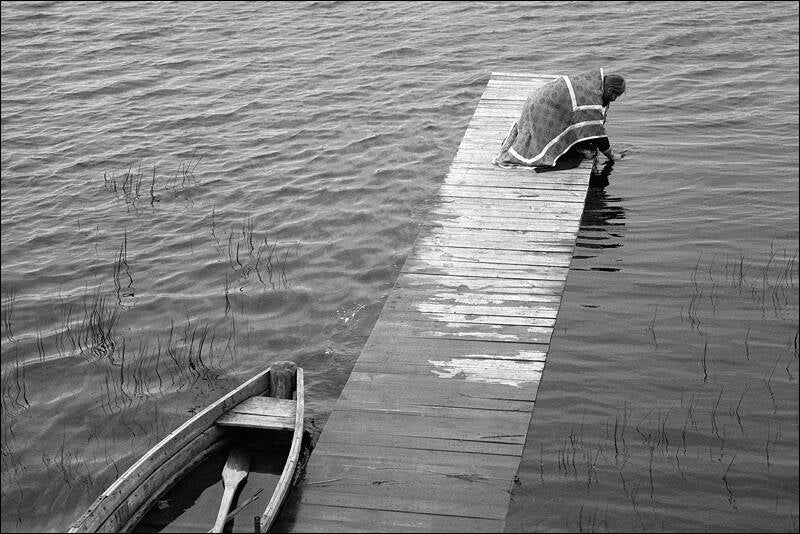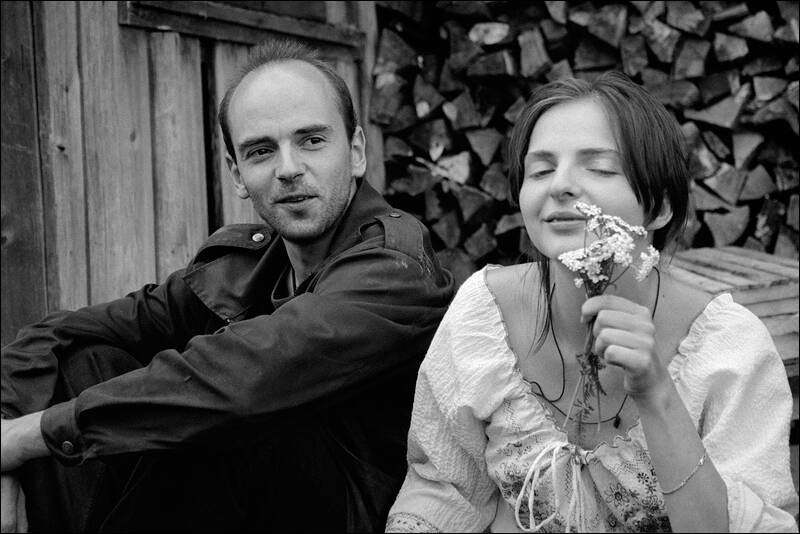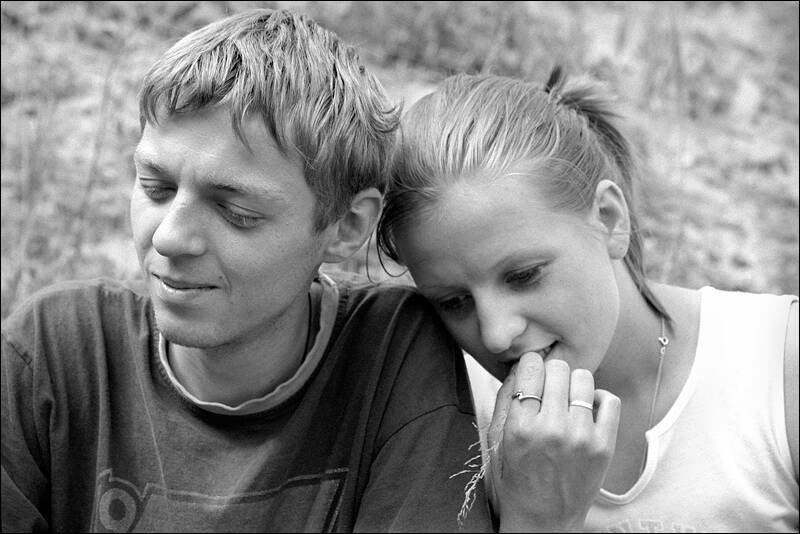 Misha Maslennikov was born in 1964 in the settlement of Dobroe close to Moscow.
Since 2013 constantly lives in the city of Odessa, Ukraine.
1981-83 – he studied at Art School #75, got the qualification of architectural designer-constructor.
2002-05 – Misha studied at theological department of Saint Tikhon's Orthodox University.
1985-92 – he worked in reproduction centre of the State Publishing House the Press (previous name Pravda) as a retoucher and an operator of electronic color splitting and color correcting machine. At the same time Misha Maslennikov got experienced in the following fields: photo reproduction, contacts, photomontage, he was busy in graphic, fonts and painting in art studious of Moscow painters Dmitry and Andrey Bisty, Vladimir Brainin.
1993-98 – he worked as an assistant of head of printing department at the designagency of the company Videoservice, became professional in control of printing process, graphic design, pre-printing photo preparation.
2001-02 – he was engaged as an art-director in the project Byzantium.ru of charity organization – The Centre of Help to Development of Orthodox art Byzantine. He began traveling in the Russian North in 2002. The main areas are single expeditions to the places difficult of access, visiting and co-operation with cenobites of active monasteries, sketes, with keepers of ancient temples, pogosts, studying the way of life of modern hermits, anchorites, real intercourse and contacts with backwoodsmen. Since the middle of 2005 Misha goes in for field reportage photography and begins thinking seriously about the photographic process as a way of the particular conveyance of author ideas in a missionary vein. At present Misha Maslennikov continues his work on private and public projects in documentary photography, individual and group expeditions according to a given subject, collection of materials, visual ethnography.
2008 – he triggered the arrangement of photoclube under Feofaniya Gallery.
Since 2006 – member of the Noga Creative Union.
Since 2010 – member of the Russian Photounion.
Since 2010 – member of the Russian Geography Society.
Awards & Honors:
2018 – Grand Prix of the XXIV International Photo Festival Narva Autumn 2018, Narva, Estonia.
2012 – Grand Prix of the All-Russian photo contest "Living Ocean and Coastal Zone" of the Press Center of the Russian exposition at the World EXPO-2012 and Science and Lifemagazine.
Solo exhibitions:
2018 – Chukotka is a land of loneliness, House of Culture Rugodiv, Narva, Estonia.
2013, 2018 – Ordinary Photos, Odessa Museum Western & Eastern Art, Odessa, Ukraine; Art Space, Vitebsk Center of the Modern Art, Vitebsk, Belarus.
2012-13 – 3 Outskirts: Karelia, Altai, Chukotka, GM Photo Gallery, Yekaterinburg; Russian Museum of Photography, Nizhny Novgorod, Russia; The First Sevastopol International Photo Festival, Sevastopol, Ukraine.
2008 – WE, Feofaniya Gallery, Moscow, Russia.
Group exhibitions:
2020 – NoGa Creative Union, Thin Line Photo Festival, Odessa Museum Western & Eastern Art, Odessa, Ukraine.
2016 – Life without pomp and parade, Central library M.Y. Lermontov, St. Petersburg, Russia.
2012 – Urban Environment, International Photofestival "Photo Days Ogre 2012", Ogre Cultural Center, Museum of History and Art, Ogre, Latvia.
2012-13 – Our Stories, Series "We'll manage anything!", Project of the Mobile Photo Exhibition The Photographic Angle, London – Bristol – Swindon – Birmingham – Crowley – Slough – Bracknell – Chester – Leeds – Newcastle – Stockport – Croydon – Uxbridge – Milton Keynes – Peterborough, United Kingdom.
2012-13 – 200 Faces, Project of the Mobile Photo Exhibition The Photographic Angle, London – Bristol – Swindon – Birmingham – Durham – Farnborough – Camberley – Crowley – Greenford, Great Britain.
2012-13 – Birthmarks on the map, Australian Photofestival Head On, gallery The Muse at the Institute of Photography TAFE NSW, Sydney; The Photo Industry Fair PMA, Melbourne Exhibition Center, Melbourne, Australia.
2011-13 – Invisible Country, Project Liberty.SU,White Cube Gallery, Omsk; Tomsk Regional Museum of Local History, Tomsk; Municipal Art Gallery, Kostroma, Russia.
2011 – We live in Russia, CDC of the South-Western Administrative District, Moscow, Russia.
2010 – Indifference, MArchI, Moscow, Russia.
2008-09 – Territory of Joy, Rumyantsev Mansion (branch of the State Museum of the History of St. Petersburg), St. Petersburg; Exhibition Hall of the Union of Artists, Pskov, Russia; Center for Orthodox Culture, Bialystok, Poland; Russian House of Science and Culture, Berlin, Germany; Voronezh Regional Art Museum. I.N. Kramskoy, Voronezh; The scientific and cultural center of the museum-reserve Mikhailovskoye, Pskov region; The Nevskaya Curtain of the Peter and Paul Fortress, St. Petersburg, Russia.
2009 – My Favorite Province, Center for Culture and Art "Meridian", Moscow, Russia; Russian Center for Science and Culture, Bratislava, Slovak Republic.
2007 – Imagine Russia, Brooklyn Coffee & Tea House Gallery, Providence, Rhode Island, USA.